What's New at Calf-Tel: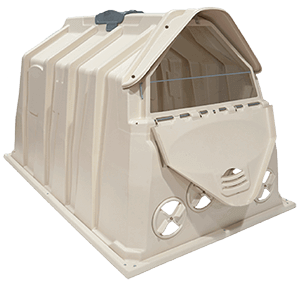 INTRODUCING THE NEW
XL-XTRA 35|85
CALF CORNER
SHORT GUIDE TO ADDRESSING CALVING
FEATURED PRODUCT
CALF JACKET
Whatever your needs, we have a calf hutch for you. From economical to extra-large, our calf hutches can be customized and designed with industry-leading features to keep your calves healthy and comfortable.
---
If you're looking to come in from the cold and elements, then indoor calf pens are for you. With a variety of sizes and options to fill your space our calf pens are fully modular and easy to clean!
---
When moving calves from hutches or pens its important to ease their transition and our group calf hutch is an easy way to do that. Socialize the calves while getting them used to the group environment.
---
Our Starter Calf Hutch allow you to customize how you care for your newborn calves. With many features that convenience you as the producer, keeping your calves safe, dry and warm has never been so easy.
---
Single or paired raising, heavy-duty or lightweight, we have a fencing option you're your calf hutch. Our fences provide your calves with extra space, access to natural light and plenty of ventilation.
---
Raising calves successfully takes more than a calf hutch and some feed. Available online now, shop for indoor and outdoor housing, fencing, feeding and basic calf care accessories.
Locate your nearest Calf-Tel dealer
Our dealers understand the complexities of raising cattle and can help identify the best, most cost effective solution for your operation.
Calf Corner
We understand that caring for your calves is your number one priority. Visit Calf Corner for upcoming events, the latest information and education on raising healthy, productive calves.